Calling All Scouts and Scouters
This years Fall Rendezvous will feature a great new event. Along with many of the items listed below there will be a new event put on by the Northwest Civil War Council. They will be here with about 100 civil war re enactors, horses, cannons and much more for your education and enjoyment. They will have two separate camps and a civil war Hospital. They will be putting on skirmishes between the two sides with cannons blazing right here at Rendezvous. This you simply can not miss!!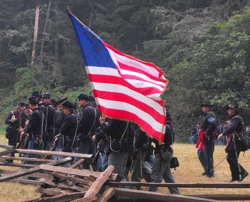 Campfire, Shotgun Shooting, Black Powder Shooting, 22 Silhouette Shooting, Fire by Friction, American Mountain Man Demonstrations, Flint Knapping, Beading, Fort Webelos, BB-Gun Range, Archery, Lewis and Clark History Demonstration, Trading Post, Dutch Oven Cooking, Hide Tanning, Bull Whip Demonstrations, Branding, Tomahawk Throwing, Forge Work, Bullet Making, Saw Bucks, Apache Run, Candle Making, Indian Sign Language, Flint and Steel, Travois Building, a Mountain Man Swap Meet, Leatherwork, and more.