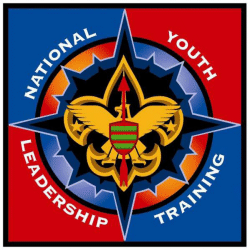 National Youth Leader Training 2013
June 23 – June 29
Camp Baker - Florence, OR
The NATIONAL YOUTH LEADER TRAINING (NYLT) Conference is the premier Leadership Training course offered by our Council. NYLT is open to all Scouts at least 13 years of age and first class rank and above (with at least one year's experience as a Scout). All applicants should have completed Intro to Leadership Skills for Troops or Crews.
You will experience leadership training in an outdoor environment while gaining skills to lead other Scouts upon graduation. We have a great staff of youth leaders, who bring a lot of experience to the course.
Attendance is limited to only 48 Scouts across the entire Council, so register as soon as possible.
The cost for this event is $185. An $85 deposit is required with the application and the balance must be paid by June 3, 2013.
WANT TO PAY ON-LINE: CLICK HERE, Then click the "REGISTER" button at the bottom of the page to enter our secure payment section of the website.
---
What Is National Youth Leadership Training (NYLT)?
The NYLT course simulates a month in the life of a troop. It is a six-day course that reinforces and expands upon Be-Know-Do leadership. You'll learn a number of leadership skills and concepts summarized on the memory tips card. You'll learn about the stages of team development and how to match the most appropriate leadership style with the developmental stage of the individual or team. The course has many challenges, including its culmination where you and your team undergo a quest for the meaning of leadership, which you then present to the entire NYLT troop.
The NYLT course has Eight Key Elements
1. A Month in the Life of a Troop
NYLT is a six-day course where you and the other Scouts live and work in an outdoor setting as part of a patrol within the NYLT troop. You'll experience the simulation of a month in the life of a troop, complete with patrol leaders' council meetings and planning for the big monthly outing (the outpost overnight trip at the end of the course). You'll use the patrol method throughout the course and rotate leadership positions so that each Scout can experience different roles. There is an immediate application of learning in a variety of structured and fun events.
The first days of the course equal three weeks of a troop, including troop and patrol leaders' council meetings, and a wide range of activities and games such as a camp wide geocache game and other sessions you can only experience. You'll learn to set a vision, with goals and plans, and use this process to plan for the big troop event, which gives you a chance to test your plans. You'll experience learning through action at its best.
Each patrol is also given a challenge to create a shared vision of success. They use this shared vision throughout the course to help achieve all they can as a patrol. Each patrol works on the quest for the meaning of leadership and, at the end of the course, presents their understanding of this and other concepts they have learned throughout the week as a skit, song, or something they build—the possibilities are endless.
2. Four Stages of Team Development
All teams (and individuals) go through development stages when facing any new task or project. They begin as highly enthusiastic but relatively low-skilled team members. As they begin to realize the task may be harder than they thought, and that their skills may need some work, their enthusiasm dips. Soon, however, they begin to gain some expertise in the skill, and their confidence begins to grow. Finally, they get it, and are a highly capable and enthusiastic team.
Team Stages

Development Phases

Leadership Behavior




Best for This Stage

Forming

High Enthusiasm, Low Skills

Explaining
Storming

Low Enthusiasm, Low Skills

Demonstrating
Norming

Rising Enthusiasm, Growing Skills

Guiding
Performing

High Enthusiasm, High Skills

Enabling
3. Leadership Requires Vision, Goals, and Plans
Scouts are shown several video clips with the theme of Finding Your Vision/Creating a Future. They learn that "if you can see it, you can be it." Each Scout develops his personal vision for what future success looks like.
4. Toolbox of Leadership Skills
You learn a number of tools and techniques that will help you lead your Patrol or Troop. Skills that can help you in every area of your life and that will provide lifelong value.
5. Consistent Leadership Modeling
The adults and staff of the NYLT courses are wonderful role models who continuously set the example using the NYLT skills for the participants. They work hard to ensure that they use effective communication skills, model EDGE(TM) throughout the course, share their own visions with the troop, and demonstrate servant leadership throughout the week. They create a rich learning environment that focuses on the Scouts so that each participant comes away from the course with a full learning experience.
6. Scout Oath and Law
The course is always centered around the Scout Oath and Law and all of the values of the Scouting program.
7. Have Fun!
This course is a blast! Scouts are constantly busy with so many fun activities that they are always doing something new and exciting. The best part is that they are learning all of the leadership skills while having a great time.
8. Traditions
Many of the traditions of past Junior Leader Training courses continue. Our Scoutmaster and the staff ensure that they are aligned with the spirit of the new NYLT skills and philosophy.
What will I learn?
You will come away from your NYLT experience with exposure to the best of the best of leadership techniques. You will have learned so many invaluable skills about how create a vision of success, how to set goals and make plans, how to listen and solve problems, and how to teach and lead. Most of all, you'll learn the bigger picture of how to put the needs of others first in order to be a truly great leader. You learn to use the Scout Oath and Law to make hard decisions and to remain true to Scouting's values.
How can I use what I learn to support my Troop?
The applications to a home troop are immediate and obvious. You'll come home from NYLT with a new toolbox of skills at your disposal. You have lived the patrol method and have spent the week thinking about your own quest for the meaning of leadership. You will provide great value to the troop with your ability to coach and mentor the other scouts, using the Leading and Teaching EDGE(TM). You'll come back from NYLT having made a commitment to take on a challenge to better your troop. You'll share your challenge with the troop's leaders and enlist their aid in evaluating your efforts.
Can I use my NYLT knowledge anywhere else?
All of these skills are applicable to every part of your life. They will follow you to adulthood, enabling you to be the most effective leader—and follower—in any setting.
Are you ready for the challenge?
Fill out the attached NYLT Course Application, and prepare yourself for the best leadership training experience in the entire Council. Are you ready to LEAD?