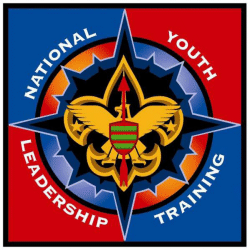 | | |
| --- | --- |
| Click here for an application packet | Click here for a printable flyer |
What: National Youth Leadership Training (NYLT) is an exciting, week-long, action-packed program designed to provide all 13 to 20 years old youth members of the Boy Scouts of America with leadership skills and experience they can use in their home units and in other situations demanding leadership of self and others. This premier training will be held this year at Camp Baker.
Who: Boy Scouts and Varsity Scouts must be 13 years old, Be First Class and have completed Troop Leadership Training. Other youth participants must be 14 years old and must have completed Crew Officer Orientation, the Venturing Leadership Skills Course, or the new Crew Leadership Training. Trainees will experience leadership training in a real outdoor environment while gaining skills to lead other Scouts upon graduation. We have a great staff of experienced youth leadership and they will bring a lot of experience to the course.
Course Overview
The course models a month in the life of a Troop - three meetings (one each day for the first three days). The course uses the patrol method and presents model Patrol Leader Council meetings.
The NYLT Patrols are challenged early in the week to present to their NYLT Troop at the end of the week their "Quest for the Meaning of Leadership." While the challenge is designed to have them go through the four stages of team development, it will help patrols and individual Scouts internalize the leadership skills and concepts being presented to them along the way.
Throughout the course, the staff will be modeling the concepts and skills that are the core content of the course. The focus of each session is not only gaining knowledge, but giving Scouts a "Toolbox of Skills" that equips them with the "how". Every NYLT Scout is challenged to put what he has learned to use in his or her home Troop or Crew.
Attendance is limited to only 48 Scouts across the entire Council, so register as soon as possible. The cost for this event is $185. A $85 deposit is required with the application and the balance must be paid by June 4th, 2012.